A few of the best books I've read lately:
The Rancher's Twins
by
Carol Ross
Loved this story. Everything felt authentic, the setting, the plot, and the characters. And speaking of characters, who can resist a single father rancher who adores his twin daughters? Lydia is so perfect for Jon, all except for that ticking time bomb in her past...
And the best part? This is the first of a continuality with five different authors writing about five different brothers. So we get to return to this beautiful ranch again and again. Can't wait.
Crossing the Goal Line
by
Kim Findlay
My only complaint is the sleep I lost because I couldn't stop reading. Loved Mike and Bridget and all the secondary characters, especially Bridget's family. The story was full of funny moments as well as romance, and the ending …ahhhhh. Highly recommended.
Smoky Mountain Sweethearts
by
Cheryl Harper
I love second-chance romance. Sam and Avery grew up together and pushed each other to new heights, sometimes to the horror of their mothers who are best friends. They grew up and Avery moved away, while Sam stayed and mastered firefighting. Now Avery is a widow, depressed and aimless. She returns to her mother's house and her hometown to find herself again, and Sam is part of that. The only thing is, Sam is gunning for a job as a wildfire fighter in Colorado. I loved the dynamics between Sam and Avery and their mothers, who are both adorable and exasperating. And I love the special text message Sam and Avery share. Highly recommended.
Support Your Local Sheriff
by
Melinda Curtis
I'm in love with Sheriff Nate, a man who takes the concept of "serve and protect" seriously. In a town of mostly seniors, Nate does whatever it takes to keep them safe and secure, even if it means occasionally using his jail cell as a guestroom. But along comes Doris, who instead of recognizing him for the treasure he is, wants to get him thrown out of office because he had the gall to ticket her for clear infractions. And into that mess walks Julie, his former almost-sister-in-law, and a child she says is his son. Funny, sweet, and fun.
For Love of a Dog
by
Janice Carter
I so enjoyed this story with its wonderful characters, including the dog. Kai isn't too happy getting stuck with this dog at first, but when she arrives to help out in a family emergency, the dog bonds with her troubled nephew. Of course, that causes problems when the dog's intended owner, Lucca comes to claim the dog who saved his life in Afghanistan. He sees the bond with the boy, and agrees to stick around to help temporarily and possibly make the separation easier. And it's the love of a dog that allows for more love to grow.
Deputy Daddy
by
Patricia Johns
I truly enjoyed this story of redemption and love, all centered around a tiny newborn baby. Bryce is only in town for two weeks, and only because he has to be, but that two weeks in the company of Lily and little "piglet" is enough to change his attitude, and his life.
Wild Horse Springs
by
Jodi Thomas
Engaging characters, danger, and love make this story a pageturner. Plus, for me, nostalgia for the area where I grew up. I love the beginning - a fancy boot in the road. I loved how much the sherriff cared about the people of his town, especially Thatcher and his daughter. And I loved that Brandi could be the woman he needed in his life. Highly recommended.
I won this book in a Goodreads giveaway.
Frankly, My Dear: Creating Unforgettable Characters
by
Melinda Curtis
A concise reference for creating believable and interesting characters that can grow and change. Excellent and easy to understand examples help explain how wounds and upbringing can create certain consistant behaviors in people, and how they can be overcome. I know I'll be coming back to this book again and again.
Fetching Sweetness
by
Dana Mentink
A fun romp involving a driven would-be literary agent, a former ruthless businessman on a mission from God, and a fun-loving canine with a savior complex. This story illustrates the folly of not following God's plan, and demonstrates that a sense of humor is truly a gift from God.
Her Texas Rebel
by
LeAnne Bristow
Sabrina and Tony fell in love too early, ran into too many problems, and made too many mistakes, sending them thier separate ways. Now they're both back in their hometown, Sabrina to get help for her at-risk son and Tony to recover after being shot trying to save a teenager from gangs. When they run into one another it's clear the attraction is still there, but Sabrina has a secret. The more she's around Tony, the more likely her secret will come out. And, just to complicate things, they're both involved with a nearby foster home, where there are hints of illicit activites that might put Tony into danger once again.
I really enjoyed these two characters as they explored their past and owned up to their mistakes. The small-town setting and secondary characters were quite well done as well. If you enjoy second-chance romance as much as I do, you'll love this story.
Catch a Fallen Star
by
Amy Vastine
Another great redemption story. Boone's talent and drive have taken him to the top, but because of his drinking, he's losing it all. Especially his relationship with his daughter. His manager has lured him to Helping Hooves to get his head on straight, but he's fighting it. It's not until he gets tangled into Violet and Ruby's life that things start to change, and his progress is far from assured. Throw in some horses and a guitar, and you have a truly compelling story. I loved the first in the series, but this one is even better.
A Heartwarming Holiday
by
Anna Adams
This collection of fifteen romance stories by Harlequin Heartwarming authors is like a box of fine chocolates – each one different and all delicious. It's hard to pick a favorite. I especially loved a baby-centered reunion story, although a certain strong and silent woodworker was hard to resist. The stories are divided into five sets of three interconnected stories, all taking place in Christmastown, Maine, a fictional town that feels very real and very special. Like all Heartwarming stories, they're wholesome romances with no embarrassing bits. A wonderful way to celebrate the season, and a terrific bargain, too.
The Education of Dixie Dupree
by
Donna Everhart
Troubling, even heartbreaking, and yet hopeful. Dixie Dupree loses so much, and yet her strength and courage bring her through. A remarkable character.
A Heartwarming Thanksgiving
by
Kate James
and others
The best bargain of the season. A baker's dozen of romantic Thanksgiving stories with strong, relatable heroines and irresistible heroes, and every one of the stories is truly heartwarming. Soldiers, firefighters, atheletes, doctors - they're all there. Plus one of my favorite lines of all time. When the soldier protests about his relationship to the heroine, "It's not like that," he's told, "Henderson, it's always like that." And as if that weren't enough, each author has included a special holiday recipe. So read, cook, and love. And be thankful.
When I Found You
by
Kate James
Ariana, head of airport security, has a big job, and someone is going out of their way to make it harder. At first, it's almost jokes, but the danger starts to escalate. Logan and his canine partner, Boomer, are her best bet to find the culprit. In spite of Ariana's fear of dogs, they work well together both on and off duty, until complications make them doubt whether they can trust one another.
This is the third of the K-9 trilogy, and it may be my favorite. I was thrilled to hear another K-9 story is in the works. If you like warm romance, mysteries, dogs, or all of the above, read this story. You won't be disappointed.
Carousel Nights
by
Amie Denman
I loved this story. The characters are likable and complex. Mel is a great guy, a great dad, and a wizard at fixing things. He's hard to resist, and his son is even harder. But June has dreams, and they don't jive with Mel's life. Add in the setting at a family-owned amusement park and characters from an earlier story in the series and it's a winner. I recommend the whole series.
The Life She Wants
by
Robyn Carr
When her father died, Emma was left with an evil stepmother and two ugly stepsisters. Thank goodness for her best friend, Riley. But when Emma leaves for college, Riley cheats with Emma's boyfriend, and the friendship ends in a bitter fight. Emma moves on, working her way through college and marrying a rich and charming prince-of-a man. But the charm is all an act. Her husband's Ponzi scheme and subsequent suicide leave Emma with nothing, not even her good reputation. She moves back to her hometown, where she struggles to start over, building the life she really wants.
I love this story of friendship and relationships, lost and found. The characters were real and lovable. I'm especially fond of June, Riley's mom, a warm and loving woman with an ugly dog. Highly recommended.
Disclosure: I won an advance review copy of The Life She Wants on Goodreads, which did not influence my opinion of this excellent story.
The Bull Rider
by
Helen DePrima
Cameron's Pride is a great series. The Camerons are a close and loyal family, working together to keep their family ranch in Colorado. I loved the main characters in this story. Jo is so intelligent and supportive, but after witnessing her father's violent death, she's in no hurry to get involved with a man who rides bulls for a living. Tom has his own hurts and secrets. I especially enjoyed their time on the Cameron ranch, and it was great to catch up with Shelby and Jake from the first book.
A Collateral Attraction
by
Liz Madrid
Billie, a small-town California hippie girl is in New York to reunite with her fashionista twin sister, Blythe. Blythe wants to introduce Billie to her wealthy new boyfriend and lifestyle, but a running battle between the boyfriend and his brother drag the sisters into a sinister plot, in which they're both expendable. Billie finds herself outfitted in designer clothes and jetting around the world with the brother, trying to save her sister from the looming disaster. It doesn't help that Blythe is convinced Billie is trying to sabotage her.
Fast-paced and steamy, A Collateral Attraction illustrates the dangers of sibling rivalry, and the redemptive power of love.
When Love Matters Most
by
Kate James
Engaging characters make this story hard to put down. Both Rick and Madison are intelligent, caring, dedicated professionals who love dogs. They're made for each other, but the danger of Rick's work as well as some of the choices he's felt compelled to make drive a wedge between them. This story takes on one of those ethical dilemmas I know I struggle with, and handled it with finesse. Highly recommended.
A Family Like Hannah's
by
Carol Ross
I can't decide which of the Seasons of Alaska books is my favorite. I love spending time in Rankin, with the James family and their friends and neighbors. In this story, Tate, a successful snowboarder with with a tragic childhood, is determined to give his nephew the upbringing he deserves. He meets Hannah, who has a terrific family but has had her own share of tragedy. When they butt heads over a vision for a snow sports resort in Rankin, sparks fly, and yet they can't help being drawn to one another. A lovely, feel-good story.
A sweet and touching story about two single parents trying to do their best, in spite of a certain amount of baggage, and the unpredictable teenage daughters who plot to bring them together. Differences in style and an over-entitled ex-wife complicate things, but the girls are up to the challenge. Add in a lazy cat and adorable dog, and you have a story that will leave you smiling.
I'm a sucker for a redemption story, and this is a good one. Luke had a tough childhood and made some mistakes, but the man he hurt most had faith in him and that faith had led him to a a better life. Now if only the man's daughter, Holly, could understand that. She's got problems of her own, including a lovable and troublesome eight-year-old genius to care for. Great characters and a wonderful story. And even the cover is sigh-worthy.
Last week, I saw an old cowboy walking across the parking lot, hand-in-hand with his silver-haired wife, and I smiled. There's something about a cowboy, something romantic and solid and heartwarming, and

Into the Storm

captures it. It's the perfect blend of relatable characters with a few hard miles on them, an interesting setting with the little details that make it real without weighing the story down, and a plot that makes it hard to put down. I read the whole thing in two sittings, and feel like I've been to Jake's ranch in Colorado and made friends with him and his family. And Shelby—I just want to hug that girl and tell her how proud I am. Can you tell I LOVED this book?
The Martian by Andy Weir



One of those rare books that both my husband and I agree on. I love the main character's sense of humor and loyalty as well as his amazing ingenuity. He faced overwhelming technical challenges, but they were always within the realm of believably, and he never lost hope. Truly inspirational.



A Cold Creek Christmas Story by RaeAnne Thayne


A truly sweet story of a small-town librarian, a little girls dealing with a traumatic event, and a man who only wants the best for his daughter. Add to that the sweetness of Christmas in the shadow of the Tetons, and you have the makings of a wonderful story. I highly recommend it.



A Heartwarming Christmas: A Boxed Set of Twelve Sweet Holiday Romances
by
Melinda Curtis
I loved every one of these stories. I think The Gingerbread Heart is my favorite, but each one of them is sweet and truly heartwarming. A real bargain - every single one of the twelve stories is guaranteed to bring a smile to your face. If you're sentimental about Christmas and believe in love, don't miss this collection.
The Trouble With Mistletoe
by
Jennifer Snow
Such a sweet story. I always enjoy a good reunion story and could really understand the pain they both felt. They love each other, and it's clear they belong together, but they seem to want different things. How can they make it work? A bonus is it's set in a backdrop of Christmas in a small town. A Christmas treat.
Finding Sam
by
Liz Madrid
Finding Sam isn't a lighthearted read. Sam has been through serious neglect and abuse from most of the people she should be able to trust, and she'd still struggling with a dangerous ex. There have been people in her life that helped her turn it around, but she's lost them. The story is written in Sam's point of view, and to me one of the most chilling parts of the story is the matter-of-fact way she relates the horrible things she has suffered, as though they were nothing extraordinary.
When Sam meets Erik, she's instantly attracted, and just as instantly afraid. This contradiction continues throughout their relationship, moving to deeper and deeper levels, but she fights it all the way. Sam drew me in and made me care, enough that I wanted to slap her silly sometimes, but she earns everything she gains. A deeply emotional experience.
The Safeguard: A Novel of Georgia in 1864 by Diana Wilder



This is one of those stories that drew me in, one scene at a time, until I was living the Civil War with the characters. Miss Lavinia, our heroine, is a spinster, possibly because of her tendency to speak her mind, more so than the typical southern belle, as well as the inborn wisdom that allowed her to recognize fortune hunters when they courted her. A woman of great courage and competency, she nevertheless admires her forefathers from the Revolutionary period and doesn't recognize that bravery in herself, even though she steps out after a horrendous battle and immediately offers aid and comfort to the wounded of both armies.
In an effort to save her family's collection of Revolutionary pottery, she approaches a Union General and asks for a guard. After learning of her generosity, he indeed appoints a Safeguard for herself and her property, and not just any guard. His choice was handpicked to be honest, generous, honorable, and handsome. And although wounded, Asa turns out to be all those things and more.
Asa and Lavinia join forces to keep her plantation and the nearby town safe and secure in spite of the horrendous dangers of the times. He goes above and beyond to protect her and hers, whether from marauders, local firebrands, or a malicious houseguest who might be the biggest danger of all. Together they weather terrible things, as well as a few funny ones, and their feelings grow. But happy endings are never guaranteed, especially in wartime.
When the Right One Comes Along by Kate James

Who can resist a hero who rescues little girls and loves his dog? Not our heroine, even though she has good reasons to resist. In fact, they both have scars that drive them apart, but somehow they manage to work their way through and help others along the way. The characters are realistic, not perfect, but admirable and likable. A wonderful story.



Winter's Camp
by
Jodi Thomas
A charming novella, about the incredible hardship of a woman who was captured by Apaches at twelve and grew up basically a slave, and the man who couldn't turn his back and leave her there. I grew up in this country, so it was a special treat to escape to the past and see the founding families. A lovely story.
A Week in Winter
by
Maeve Binchy
Binchy has such a talent for collecting odd and wounded characters and telling the story of each one in a way that draws us into their hearts. She's done it again, beautifully, in A Week in Winter, weaving their lives together in an elaborate tapestry. The photos of the setting at the end of the kindle addition were a lovely bonus.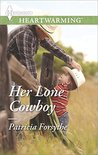 Her Lone Cowboy
by
Patricia Forsythe
I thoroughly enjoyed this story of loss and love and family. The main characters were very likable and Sam, the little boy with a fascination for cowboys, was adorable. A feel-good read.
Raising the Stakes
by
Karen Rock
A sweet story of two scarred people and one orphan bear cub, each just trying to stay safe in their own way. Vivienne and Liam are at cross purposes when it comes to the cub, each meaning well but taking a very different approach. The same is true of the way they each deal with the traumas of their pasts. And yet, somehow, they help each other begin to heal. When reading this book, I'd suggest playing the score from Born Free in the background.
Winner Takes All
by
Cheryl Harper
For Stephanie, winning the lottery means losing her safe, secure, and confining existence. Not that she's unhappy in her small town, but this gives her the chance, with a little shove from her friends, to get out into the world, starting with a visit to her friend's brother in Peru. Daniel, a doctor, is running a clinic there after imploding his career in their home town.Stephanie has always had a crush on Daniel, but she's like a little sister to him.
The story takes us up dangerous roads and trails, and into dangerous territory romantically, as Daniel slowly begins to realize Stephanie is a grown-up with exceptional skills and talents, but worries about her safety and even more about their attraction. Sweet and satisfying.
Absence of Grace
by
Ann Warner
A touching book that flows like a slow river, the current carrying along the story with the occasional eddy flashing back in time. Believable characters and a satisfying conclusion. Very nice.
The Doctor's Cowboy
by
Trish Milburn
A sweet story with believable characters I could relate to and enjoy spending time with. I love the way their love grows slowly over the course of the story, and the family and friends in the charming small town.
Waltz Back to Texas
by
M.J. Fredrick
A sigh-worthy story of a woman who desperately wants to escape her life and town, and a man who returns home, knowing he wants to stay. Their attraction comes with an expiration date, but love has other plans. The secondary characters and setting add richness to the story.
An Englishwoman's Guide to the Cowboy
by
June Kearns
An original and lively story of a well-bred if somewhat downtrodden Englishwoman and a taciturn cowboy, thrown together by circumstance in the wild, wild west. While at times I wanted to stifle the heroine (you'd think after twenty-something years as a poor relation, she'd learn a little tact) overall I found her interesting and courageous, and her relatives were deliciously odious. There was a nice twist at the end, only part of which I saw coming. Overall, an entertaining tale.
A Highland Knight's Desire
by
Amy Jarecki
A steamy, action-packed story set in times of an uneasy truce between England and Scotland. Beautiful Lady Meg is the daughter of an Earl, but she's cursed with a deformity as well as an impulsive nature and wild red hair. A pawn in a plot for vengeance, she's kidnapped, and then rescued by the highland knight, Duncan.
The rescue doesn't go as smoothly as hoped. Meg and Duncan are thrown together in a series of circumstances that would try the patience of a saint, and Duncan and Meg are no saints. Their growing attraction is yet another complication, quite possibly a catalyst leading to a tragic end.
The characters in the story are well-developed and likable. Meg is no helpless maiden; the lass does a fair amount of rescuing herself. She finds it hard to accept that a man could overlook her deformity. Duncan carries a huge responsibility on his shoulders, for his men, his father, and his honor. Both main characters are larger than life, in their skills, their enthusiasms, and lusty natures. An entertaining tale.
Disclosure: I was lucky enough to find the beginning of this book on Kindle Scout, and received a free copy as a reward for my nomination.
The City of Refuge
by
Diana Wilder
A complex story of mystery and drama. It did throw in a lot of Egyptian names and places up front, which confused me a little, but as I was drawn into the story, the names and relationships begin to fall into place without too much effort. The two main characters are both men of integrity, men who take their duty seriously, and yet they are charmingly human. They worry about their families, are amused at the antics of younger soldiers, and sometimes struggle to do the right thing.
The story drew me in, made me feel the burning sun, the blowing sand, and the confusion in the labyrinth of paths and hidden tombs. Highly recommended for anyone with even a passing interest in ancient Egypt. Don't let the names throw you, just read on. You'll be glad you did.
One Good Cowboy
by
Catherine Mann
Cowboys and dogs, plus likable main characters and great secondary characters. What's not to love?
A Texas Holiday Miracle
by
Linda Warren
The story begins with the characters in a dark, hard place, but Lacey is doing all she can to hold it together for the sake of her small half-sister. Gabe is completely lost, shutting out the world, but Lacey sees his pain and can't help but respond. Real characters, doing the best that they can, and slowly, slowly they are able to help one another.
A real tear-jerker, deep and emotional, and rewarding. Especially during the Christmas season when so much glitter and merriness paints the surfaces, it's refreshing to go a little deeper. Highly recommended.
The Whistle Walk
by
Stephenia H. McGee
The Whistle Walk is one of those books that drew me into the story and made it hard to leave. The friendship between a young bride and her slave is unlikely, and yet it feels inevitable. Both have suffered to greater or lesser degrees, and are able to offer strength and protection to the other.
I don't know that I'd call it a Romance, although romance plays a big part as Lydia learns to love her new husband and Ruth finds a good man to love. The central focus is the relationship between Lydia and Ruth, played out against the dangerous background of war. Their loyalty, courage, and faith bring them through.
Disclosure: I won this book in a raffle, which had no effect on my review. I'd recommend it to anyone who enjoys historical fiction.
All That Glitters: A Jake & Laura Mystery
by
Michael Murphy
Jake and Laura are back, this time in Hollywood, where Laura is set to star in a movie and Jake will have time to write his next novel. Jake has a ring and big plans for a proposal of marriage, but the death of the studio head's son after an altercation with Jake disrupts his plans and the movie and puts Jake in the hot seat.
Between mobsters, actors, and the press, Jake and Laura feel the pressure to solve the mystery before Jake gets railroaded. Another fun adventure.
Twitter Girl
by
Nic Tatano
Twitter Girl sounded like it would be cute, fun, and silly, and it was. However, it was more than that. This was a story about social media and politics that thankfully never got political. Nicely balanced characters and a fast moving plot kept me (digitally) turning the pages past my bedtime.
Cassidy (Twitter Girl) is a thirty-something journalist who gets fired for a seemingly too snarky tweet. Her followers rally and she's hired to work for a presidential candidate. Romantic complications follow, and an anonymous tip sends her digging for information.
Cassidy is more mature and thoughtful than I expected, very likeable and lots of fun, even if she and her best friend are a little "boy crazy" for grown women. She describes herself as snarky, but she isn't over-the top mean. Just the opposite really. The relationship between her and her brother is delightful. An enjoyable read.
The Lady of the Lakewood Diner
by
Anne R. Allen
My rating:
5 of 5 stars
The story starts when Dodie finds out that Morgan, an old but not recent friend, has been shot and her assailant is at large. Morgan summons Dodie as one of the few people she trusts. Then we flashback to Morgan's childhood. A poor little rich girl with a self-centered, pill addicted mother and a father who's not what he seems, Morgan is naive and yet worldly. Dodie's family takes her in and feeds her beanie weenies and brown bread. Morgan's life is one long adventure, where mixups, screwups, and hangups sometimes lead to tragedy and other times to wild success. She falls in and out with Dodie and her family, but although the friendship is bent, it never breaks.
All this zaniness is set against the backdrop of Camelot, set in Avalon, and several of the characters mirror those in the legend. For readers who enjoy offbeat humor and quirky characters, this story is a winner.
The Adventures of Jillian Spectre
by
Nic Tatano
I loved the main character of this book. Young, fresh, a little sarcastic, and yet wise and firmly grounded. In spite of their various powers, the other characters were also very real and likable. The plot had me staying up late to find out how it was all going to end. Clean language and positive relationships. Highly recommended.
The Yankee Club
by
Michael Murphy
A mystery set in the era of speakeasies and tommy guns. All the atmosphere of the "hard boiled" mysteries of the era, but with a slightly softer attitude, and cameos from famous historical figures. You can't help but root for Jake, Laura, and all the old gang. Great fun.
The Orphan's Tale by Diana Wilder
A classic story of good vs. evil, nobility and honor, set in Paris and populated with wonderful characters. Malet, the personification of a hero, has overcome his unfortunate childhood and committed himself to saving society from criminals. Elise comes into his path, a woman deserving of his love. Then there's Larouche, a wily orphan with exceptional skills of observation and discernment; Dracquet, a villian worthy of the name, and many others. The unfamiliar names and places forced me to slow my reading and savor the turnings of this excellent story. Highly recommended.


Rescue Me, Maybe
by
Jackie Bouchard
It took me a little while to warm up to Jane, although I can certainly identify with her dogs are better than people feelings sometimes. As the story progressed, she grew on me more and more, and by the end, I loved her. Maybe is a great character, as are the human characters in the story and the setting. A genuine, uplifting book, especially for dog lovers.


Return to Pelican Inn
by
Dana Mentink
A fun and satisfying book full of imperfectly lovable characters. Sometimes I wanted to knock some sense into them, but most of the time I wanted to hug them. A great story full of community, family, and home.


The Signature
by
Susan Ward
I wasn't sure I'd like this book about a rock star, since I'm not a huge fan of celebrity and hoopla, but I did. It's really about community, family, and courage against formidable odds. The characters are likable and believable, and they have so much to overcome. Well done.
Finding Harmony
by
Pamela Fagan Hutchins
A thrilling mystery populated with realistic but unique characters. The relationships and sense of family in this story make it more than just a mystery, and the exotic setting on a Caribbean island adds spice. I'm not sure if Annalise is setting or character, but either way, she's wonderful. Great book.
I Am Livia
by
Phyllis T. Smith
I enjoyed experiencing Roman history from the fictional perspective of Livia, the actual wife of Caesar Augustus. I felt her frustration stuck in the traditional woman's role and rejoiced when she was able to find a way to use her many talents to better the lives of her family and of Rome. A very interesting story.
The Unveiling
by
Tamara Leigh
I enjoyed this historical romance, mostly because of the strong and independent main character. Although she is of the era when women were simply property of men, married off to gain power or position, she fights against the system. She learns the skills of men, hunting, swordplay, and when her beloved brother is killed, she is able to put those skills to use posing as a boy in order to avenge his death. Her impetuous nature almost leads her to vengeance on the wrong man, but she stops in time, and then things get even more interesting.
The author did a fine job of helping us believe in the story. She didn't overplay Annyn's skills or strength and we felt her suffering. Annyn struggled, but was never helpless or hopeless. I enjoyed the novelty of the setting, and although the olde English phrases took a little more concentration, it was worth the effort for the effect. A fine story.
The Soul Mate Search
by
Morgan K. Wyatt
An original story of soul mates who have encountered one another many times, but haven't connected. Years have passed, and yet they're still apart. A mysterious woman with a crystal ball shows Nina what could be but even as fate brings them together, it seems to throw obstacles in their path.
This is a story of love and friendship, of going after happiness. The pretentious barbecue is so funny, and the characters are believable. A sweet story of a love that is meant to be.
I won this book in a giveaway, which did not influence my review.
Warning to sensitive pet lovers: There is an upsetting incident (not graphic) involving a horrible ex-boyfriend and a cat.
In Dreams
by
Gary Sand
Greg has been living with regrets for a very long time, and he's finally going to do something about it. He has located the woman he once treated so badly, and he is determined to tell her how sorry he is and what a mistake he made, so he loads up his restored Plymouth Fury, the same car he was driving when he first met her, and heads off on his mission.
It's a good story of regrets, forgiveness, and enduring love, seemingly a little predictable, and then, BAM, a twist I certainly didn't see coming takes the story much deeper. It isn't a typical romance, but it's a wonderful love story all the same. I thoroughly enjoyed it.
Twenty-Eight and a Half Wishes by Denise Grover Swank


I thoroughly enjoyed this story. I love the character, Rose, as she begins to emerge from the narrow life her domineering mother had bullied her into accepting and begins to experience freedom. I love her childlike enthusiasm as she experiences all the firsts with her on her list, and yet she shows a gentle maturity in her ability to understand her sister's reactions to the changes. The sister and the boyfriend characters were very likable, too. This blossoming is a lovely story within itself, but there is also a carefully constructed murder mystery and gentle flashes of humor throughout the story. I'm so glad I stumbled upon this writer.




Frozen Assets: A Mitzy Neuhaus Mystery by Traci Tyne Hilton



Mitzy is back, living with her new hubby, Alonzo, in his little house. She wants to move up to a bigger one, but she needs to sell the big house on Concord first, and a dead body on the premises doesn't make that any easier.




The victim is one of those men everyone liked and hated, widening the suspect pool to include ex-wives, lovers, neighbors, employees, and even an unusual witness parked nearby. This makes solving the case a challenge as Mitzy interacts with them, balancing her own interests against doing good for the people involved, even as she tries to help other clients. The mood set by the slushy gray Portland winter suits the murder perfectly. A nice cozy mystery to read snuggled on the couch sipping a cup of something warm.




Disclosure: I received a free advance copy of Frozen Assets, which in no way influenced my opinion.
The Bargain
by
Christine S. Feldman
I won this book on Clean Romance Reviews, and I'm so glad I did. Shannon is all grown up, competent, accomplished, and yet that same insecurity she felt in high school keeps her tongue-tied and awkward around her boss. I'm sure most of us can empathize. The main characters were real, not too good to be true, not evil, just nice people. There is a reason Shannon is drawn to Drew, and to Michael. In this story, the attraction develops naturally, not as a flash of lightning, and likewise Shannon's growth happens over time and she takes her future into her own hands. It's a lovely story and I highly recommend it.
Dakota Blues
by
Lynne M. Spreen
At the beginning of this book, Karen is (figuratively) running like mad on a treadmill where someone keeps turning up the speed. She's convinced that if she ever takes a break or even slows down, everything will fall apart. But it's not long before things begin to go wrong anyway, and for the first time in a long time, Karen had to take the time to think about out what happens next.
This is a lovely story, moving along at a leisurely pace, so that I was able to feel and grow along with Karen. The characters were believable and I enjoyed the setting, the contrast between the crowding of California and the open spaces of North Dakota. The history of the place, the Catholic church and the German phrases gave me a clear picture of where Karen had come from. It's one of those stories that will stick with me.
No Place Like Home
by
Anne R. Allen
An entertaining story that draws you in, No Place Like Home is about two formerly wealthy women of a certain age living parallel lives that suddenly find themselves without the security of a home through no fault of their own. Both find functioning on the edge challenging, to say the least, even without complications like devious husbands, vengeful assistant clerks, and post-operative pain. I found the format interesting. Chapters alternate between Doria's and Camilla's stories, and the two women don't actually cross paths until rather late in the book. This page-turner is a drama, a mystery, and a romance all rolled together. I plan to read more of Camilla's adventures.
Home Now
by
Suzie O'Connell
A bittersweet story of a man at the end of his long life, missing his beloved wife. The descriptions were beautiful - I could almost feel the snowflakes. It's very short, a lovely way to spend a few minutes.
The Bench
by
Linda Rawlins
A very good thriller. The characters are well developed and likeable, especially Dr. Amy and Father Michael. The pacing is very good - the danger and tension growing as the book progressed and backstory given as juicy little tidbits here and there. This is one of those books that makes you rationalize that the chores will still be there tomorrow, but you must finish this book now. An excellent start for what promises to be a great series.
Goodbye Emily
by
Michael Murphy
Before you begin reading Goodbye Emily, set aside some time because you won't want to stop. It's a wonderful story of coming to terms with loss, and of embracing the blessings of the past without letting them limit the future. It's funny and heartwarming, irreverent, and yet respectful of relationships and people. The characters were very real to me, and I admit, I needed a tissue by the end.
I'm a baby boomer, but I was only eight when Woodstock happened, so it's only a legend to me. I enjoyed experiencing the music and the atmosphere, the mud and the craziness, and most of all the love through Sparky's eyes as he remembered his first meeting with his beloved Emily. The root of Sparky's current despair is there in his past, but the cure grows from there too - he just needs the courage to face it. I highly recommend this book.
Confessions of an Instinctively Mutinous Baby Boomer: And Her Parable of the Tomato Plant
by
Marsha Roberts
This book is a more than a collection of memories; it is almost a how-to book on positive thinking. Like most of us, the author had experienced the good and bad in life and learned lessons, but she has a unique ability to make the connections, see the parables, and recognize the miracles when they happen. Some are big miracles, like a defrosting windshield just in time to avoid disaster, and some are small, like a word of encouragement at just the right time or the visit of a hummingbird, but these miracles have shaped her life and allowed her to touch the lives of countless others. The writing style feels as though she were sitting on the porch with the reader, sharing her stories. I recommend this inspirational book.
View all my reviews